After making (and totally loving!) this grease-fighting lavender dish soap, I decided it was time to ditch my automatic dish washing detergent tablets, too. Sure, they work great, but I was ready to go a more natural route. And let me tell you – I'm even more in love with this than the liquid dish soap! Making all natural dishwasher tablets is as easy as can be AND they cost less than store bought tablets. Hurrah!
I wanted to make mine without borax. There's some debate about whether or not it's really safe to use in natural dishwasher detergent so I opted to leave it out. I wasn't sure it needed it anyway, and lucky for me, it definitely didn't! Instead, I used five ingredients I always have on hand – super washing soda (my new favorite natural cleanser!), baking soda, kosher salt, citric acid and water.
All you need to do is mix the dry ingredients together in a big bowl then add the water. If you prefer to make a detergent that's not in tablet form, just skip the water. There's roughly 1 tablespoon of dishwasher detergent in each tablet so I would use 1 tablespoon of the dry detergent per load if you don't make tablets.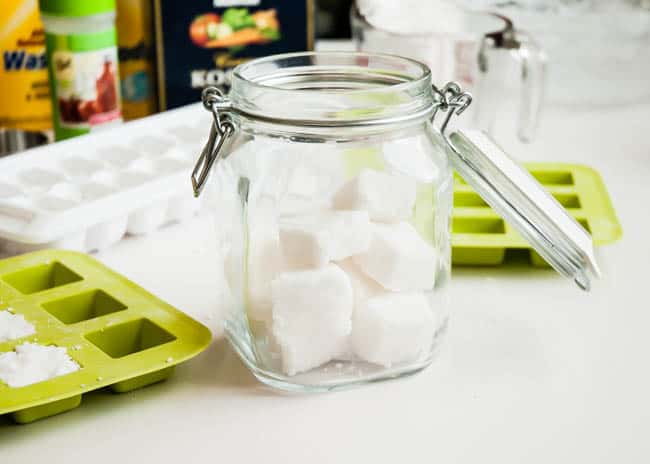 It will fizz up a bit because the liquid creates a chemical reaction between the citric acid and the sodas. It doesn't cancel out their cleaning power though. I was a bit worried at first, but they worked perfectly. Also, you want to be careful when working with super washing soda because it can cause skin irritation. I haven't had a problem with this, but I did wear gloves while I was forming the tablets.
The mixture will look soupy at first, and then become more like slightly crumbly modeling clay. It starts to dry out quickly so you have work kind of fast. I got about 3 dozen tablets out of this batch. I really packed the wells of the ice cube trays tightly so you may get more or less than 36 depending on the size of the ice cube trays.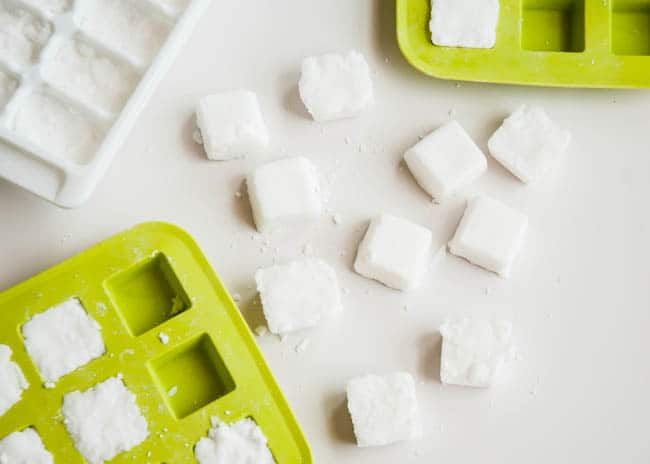 A few months ago, I also started to use white distilled vinegar as a rinse agent instead of the blue stuff. We have very hard water and my dishes would still come out with a little bit of a film on them and swapping that out really helped. I've been very happy with the natural dishwasher detergent tablets and the vinegar rinse agent. My dishes and flatware have never been cleaner or clearer!
Easy DIY dishwasher detergent tablets are better for the environment and your wallet.
Materials
1

 

cup

 

super washing soda

1

 

cup

 

baking soda

1

 

cup

 

kosher salt

1/2

 

cup

 

citric acid

1

 

cup

 

water

Equipment needed – ice cube trays
Instructions
Mix the sodas, salt, and citric acid together in a glass or stainless steel bowl.

Add the water a little at a time, waiting for the fizzing to die down before adding more. Stir very well.

Press 1 tablespoon of the mixture into the wells of several ice cube trays. Press hard on the mixture so the tablets hold together. Add a little more water if it becomes too crumbly to hold together.

Let the tablets stand for about 30 minutes or so in the ice cube trays, then turn them out and let them dry completely.

Transfer to a glass jar and store under the kitchen sink.
Notes
Washing soda can be found in the laundry section of stores like Target, Walmart, and some well-stocked grocery stores, or online.Citric acid can be found in the pharmacy or canning section of grocery stores, or online. To make powdered dishwasher detergent instead of tablets, eliminate the water and store the powder in a large container or jar. Use 1 Tablespoon per load.Distilled white vinegar is a great rinse agent. Just pour it into the receptacle in the dishwasher.